When:
September 9, 2019 @ 4:00 pm – 5:30 pm
2019-09-09T16:00:00-04:00
2019-09-09T17:30:00-04:00
Where:
Park Slope
200 7th Ave
Brooklyn
NY 11215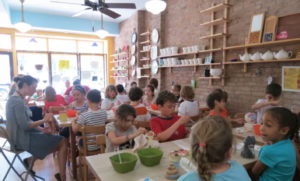 Through individualized instruction, students are introduced to basic hand-building techniques by creating functional pottery. They also learn the art of glass fusion by creating functional pieces and jewelry, painting with acrylics on canvas, and the art of mosaics.
$585 for 13 week semester.
+School pick up (if requested) $130: We will provided a healthy snack with a 100% juice box and homework help for each child.  To purchase Afterschool pickup for your child, you can add it to your cart at checkout.
We no longer offer make up classes. If a child misses a class, you are welcome to make up a class that is in session during the current enrolled semester only.  We will not be responsible for make ups.  There will be no refunds or credits for missed classes. 

Fall Semester 2019 – September 9, 2019 – September 16, 2019

Class Time:  4:00 PM – 5:30 PM  [3:00 PM – 6:00 PM with School Pick Up and Homework Help (Additional Charge)]
Ages: 6-15 years old
Class Dates:
Monday – September 9 – December 16 (No class on October 14 and November 11)
Tuesday – September 10 – December 10 (No class on November 5 and November 26)
Wednesday – September 11 – December 11 (No class on November 27)
Thursday – September 12 – December 12 (No class on October 31 and November 28)
Friday – September 13 – December 13 (No class on November 29)