Dear Painted Pot and ClayHouse families,
It is with great sadness, I have decided to temporarily close our Park Slope and Cobble Hill locations as well as our much loved clay studio ClayHouse Brooklyn on Wednesday, March 18, 2020.   We are open Sunday, March 15 to 7pm, Monday & Tuesday, March 16 & 17, from 10-9pm.
We are pro active in cleaning and sanitizing our studios for your safety and ours.  However, it is a great battle to wage daily and we have tried to remain optimistic with our fight as you have seen with our previous messages. We really thought we could remain open.  However, despite our efforts, we are even more concerned for our community and its safety, for you personally, your family and friends.  We need to follow the recommendations provided by the New York City Department of Health and Mental Hygiene (DOHMH), the New York City Department of Education, and the Centers for Disease Control and Prevention (CDC).
As a result, the COVID-19 pandemic is causing many of our families to remain home, cancel birthday parties, companies to cancel their corporate clay events and our students to be concerned about attending their pottery classes.   We want The Painted Pot and ClayHouse Brooklyn studios to be your happy place without the anxiety of your safety.  Thankfully, we have not heard of anyone in our Painted Pot/ClayHouse community having the virus or who has been exposed.
We are moving forward with a soft closing starting today and our doors will be closed on Wednesday and will remain closed until April 1st.  We know you will have many questions and concerns and we will do our best to answer all and provide options.  We will provide credit for all classes and studio memberships.  Our current adult students will be entitled to a full 8 weeks of classes when we return.
Please support our small business during this trying time.  I will be doing my best to provide wages and other supports for our staff and instructors  to ensure that they don't experience any undue financial burden as we all do our part during this global health crisis.
At this time, we are putting together
Pottery To Go
so you don't miss painting pottery while we are closed.  We can also sell clay to take home to keep your family entertained while home.
For 22 years, The Painted Pot has been part of our community creating memories and happiness with pottery. We sincerely hope these measures help reduce the spread of the virus in New York City and keep our most at-risk community members safe.   We will be back in the studio soon, firing up our kilns and we will be making more clay memories with your family soon again.
Owner of Painted Pot / Clayhouse Brooklyn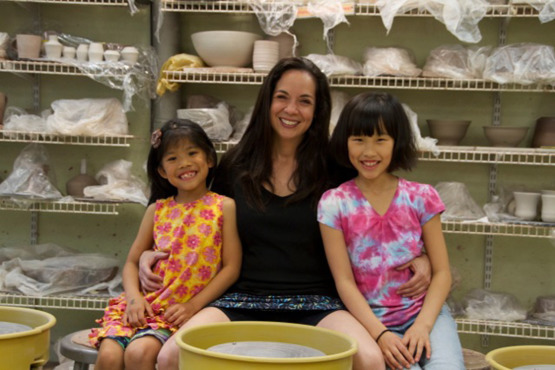 Lisa Mendoza, Owner of Painted Pot/ClayHouse Brooklyn
Now Offering Pottery To Go Kits!
The Painted Pot is proud to go beyond our studio walls to now offer "To Go Kits." Take the creative experience to your home, office, or anywhere you would like to explore your creativity.