Please Browse Our Various Class Options Below for In-Person Classes at the Painted Pot / Clayhouse Brooklyn
Adult Pottery Wheel 8 Week Classes
Students are taught the fundamentals of wedging, centering, lifting, trimming and glazing on the pottery wheel. Each student will receive individualized instructions according to their interests and experience.
Fees: $360+Firing Fees
Hand Building Classes
At our Park Slope location, we are offering two Handbuilding classes.
Body Hand building Class 
This quirky and fun clay hand building class focused on creating bold and beautiful body shaped pottery ( from memory, or photos.) Brooke will help guide students on their idea and help them Sculpt clay into confidence as you use pinch pots, slabs, and coils to build your own brand of beauty.
---
Clay Hand building Class
Great for beginners and people who have dabbled with making pottery before. We will be going over how to create  a pinch pot, coil pot, and slab pot on day one and then get more creative from there! Brooke will help students to understand what works and what will not as we build your dream clay creation! 
In-Studio All-Inclusive Painting
Not interested in taking a class? Great, you can schedule a time to create a variety of art projects in our studio. The price of items includes all materials, studio time and firing. Pottery, mosaics and canvas are priced individually and start at $12. The average pricing is $20-$30 and takes 1-2 hours to complete. Our glazes are non-toxic, lead free and food safe. No matter your skill level, our talented staff can assist you to create your own masterpiece! Due to COVID-19 Restrictions, we are unable to accept Walk-Ins. Please make a reservation by clicking on the buttons below.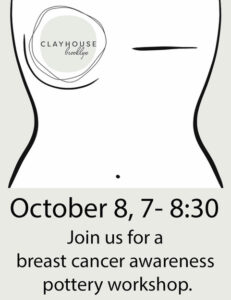 SPECIAL EVENT - Breast Cancer Awareness Clay Hand Building Class
Join us for an evening of fun and awareness at our breast-cancer pottery event, where you will be creating a beautiful mastectomy planter. Our workshop will go over the basics of creating a slab clay pot and instructor Brooke Pelczynski will be there to guide you through the process as you create the perfect planter for you, or for someone you love!
Thursday, October 8th, 7-8:30pm 
We Also Offer Several Virtual Hand-Building Classes for Adults
At the Painted Pot / Clayhouse, we made it possible to create art, without even having to leave your home. We have several class options. We pack up everything you need for the class and prepare it for curbside pick-up or delivery. 
Click the button below to learn more.